Frame/Shock
TURQ Carbon Frameset – TURQ Series bikes are made with the highest quality carbon fiber available and offer the perfect balance of stiffness and compliance. The result is a bike that feels smooth, solid and aggressive. Every bike is tested by the best racers in the world, including EWS World Champion Richie Rude, an in-house testing team and ambassadors around the world.
Switch Infinity Suspension – Switch Infinity utilizes a patented translating pivot that switches direction as the bike moves through its travel. This provides excellent anti-squat characteristics for superior pedaling performance and ideal suspension characteristics as it gets deeper into the travel. The Switch Infinity suspension was tuned for anti-squat and leverage ratio properties that emphasize the downhill capabilities while finding a balance for it uphill pedaling efficiency. Making this an enduro race machine that slays the down and get you to the top without ramping up the heart rate too much.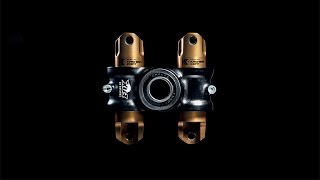 Tuned for Enduro Performance – Switch Infinity has proven itself on the race course, amassing more EWS wins than any other system. Yeti took that winning heritage and made the leverage ratio more progressive (but not too progressive) to provide greater compatibility with modern shocks and various rider weights/styles. In addition, the bike has better small bump compliance, ramps up quicker in the mid-stroke for a playful supportive feel, while still allowing for full travel and bottom out control. Thanks to Switch Infinity, the anti-squat and pedaling efficiencies remain superb.
Progressive Geometry – SB150 has progressive enduro inspired geometry. Yeti took what they learned from the SB6 and their Factory team riders and made it low, slack, and long. It is designed for shorter fork offsets - Yeti slackened the "real" head angle and made the seatube angle way steeper. The reach is also longer with shorter chainstays. What does this mean? All these elements increase the DH prowess and move the rider forward on the bike. But these advantages are not one sided. The steeper seat angle, short fork offset, and forward riding position also keeps the front wheel on the ground, the power to the pedals and the steering quick and nimble when climbing.
Fox Factory X2 – Fueled by years of RAD development, X2 hits the sweet spot with its a linear damping profile, revised oil flow, and redesigned seals. The wide adjustment range gives riders the support and grip that the trail demands, as well as a more plush and open feel in the initial travel. The best-of-the-best technology Fox has to offer is available in Factory Series models with the buttery smooth, and ultra durable Genuine Kashima Coat. These products are World Cup proven.
Shock Adjustments – Optional 2-Position Open/Firm Lever (Retains High and Low Speed Compression Adjustment), Low-Speed Compression, High-Speed Compression, Low-Speed Rebound, High-Speed Rebound, Air Spring Pressure
Shock Extender – The patent pending wishbone shock extension was developed to maximize standover, maintain kinematics, fit a water bottle in the frame and allow easy access when replacing or servicing the shock. Yeti also developed the only shock extender that's certified by FOX to take a coil shock.
Lab Tested to DH Standards – The SB150 is built Richie "F-ing" Rude tough. The frame meets Yeti DH testing standards, well beyond what others do for a 150mm trail bike. This thing will last for a lifetime, but Yeti provides a warranty to match just for good measure.
Integrated Axle and Hanger – The integrated axle and derailleur hanger system is built for simplicity and strength. Utilizing a left-hand thread to secure the hanger allows Yeti to incorporate the same machine piece for the axle retention. A clever little system the engineers spent many hours on that might get overlooked.
Custom Frame Protectors – The frame protectors for the down tube and chainstay are custom molded to match the frame. This guarantees a proper fit and adhesion to the frame for years of protection without the need for replacement or additional adhesives.
Internal Cable Routing – This may seem like a small thing, but having a clean aesthetic on the frame along with internally molded carbon tubes inside for hassle-free cable routing is key. It makes for a quiet ride and ease of maintenance. For Yeti, building a great frame is all about the details.
New Water Bottle Mount – The water bottle fits comfortably inside the front triangle, where you might be used to looking for it. It took considerable effort to accommodate a bottle, optimize stand-over and meet Yeti's kinematic expectations, but they knew it was important to you. So they finally did it.
Fork
Fox Factory 36 – The award-winning 36 gets a huge performance boost with the new FIT GRIP2 4-way adjustable damper. Equipped with the patent-pending Variable Valve Control (VVC) high- and low-speed rebound adjuster, improved compression damping and less friction overall, this 36 offers a new level of performance and adjustability that matches Fox's X2 shocks. The best-of-the-best technology Fox has to offer is available in Factory Series models with buttery smooth, and ultra durable Genuine Kashima Coat. These products are World Cup proven.
Fork Adjustments – FIT GRIP2 Independently Adjustable High- and Low- Speed Compression and High- and Low- Speed Rebound
Drive Train
SRAM GX Eagle™ Shifter – The challenges of riding a mountain bike should be kept to roots, rocks, mud, trees, jumps, drops and breathing. Putting total control of your gear selection into the thumb of one hand, it's simple to find the right gear, right now. The GX Eagle™ trigger shifter is the control center of the Eagle™ drivetrain. Its internal works have been updated to include a 12th gear, and improved to enhance trigger feel, precision and durability.
SRAM X01 Carbon Eagle™ Crankset – We know you have a lot of choices when choosing a crankset, and that choice says a lot about your personal style. We designed the new X01 Eagle™ crankset for riders who feel most stylish when they stand on top of the podium. This is a completely reengineered design, employing our proprietary CARBON TUNED™ lay-up technology. Built tough, to handle aggressive lines through rock gardens and big hits wherever you find them, the new X01 Eagle™ is the strongest, stiffest, lightest crankset available. Combined with the new Eagle™ direct mount chainrings, and as an integral part of the Eagle™ drivetrain, this is a crankset that gives your ride a winning style—assuming you're into that sort of thing.
SRAM X01 Eagle™ Rear Derailleur – This new derailleur not only answers the Eagle™ drivetrain's need for greater capacity, but it's also the next evolution of our proven, 1x-specific X-HORIZON™ design. The larger, 14-tooth X-SYNC™ lower pulley allows 10- to 50-tooth cassette capacity in this relatively compact design, and also adds to Eagle's overall smooth-pedaling feel. Our new, Type-3 ROLLER BEARING CLUTCH™ features a smoother torque curve for a quieter, more consistent operation and feel. CAGE LOCK™ has been moved back and out of the way, protecting it from trail debris. And a redesigned, robust mounting system further improves the Eagle™ derailleur's performance and overall durability.
SRAM XG-1275 Eagle™ Cassette – Ride anywhere with this wide range XG-1275, 10- to 50-tooth Eagle™ cassette that provides the right gear. Fast on the flats. Control on the climbs. Dictate your own pace, anywhere. Only Eagle™ technology is the 1x drivetrain engineered for infinite freedom. FULL PIN™ technology uses lightweight, stamped steel cogs held together with high-strength stainless steel pins. The result: a cassette that's light and strong. The open design similar to SRAM's X-DOME™ cassette aids in mud clearance, giving you cleaner shifting performance and longer component life. New X-GLIDE™2 improves both inboard and outboard shifting, as well as chain retention.
SRAM GX Eagle™ Chain – The GX Eagle™ chain is designed with SRAM's Eagle™ geometry, featuring solid pin construction, Eagle™ PowerLock® and smooth, efficient shifting that you can count on every time out.
Wheelset
DT Swiss M1700 30mm Wheelset – Just wide enough, just light enough. At 30 mm internal rim width the M 1700 SPLINE 30 works for tires ranging from slightly wide to quite wide, allowing it to attack the hardest of terrains. But with a high-end build, butted spokes, patented aluminum Pro Lock nipples and the benchmark Ratchet System hubs, it still comes in at a low weight. Low weight means it's very reactive to rider input. Reactive means fun, and fun is why we are doing this, right?
Maxxis Minion DHF Front Tire – With a tread design that deftly balances rolling speed with braking and cornering traction, it's hard to find fault with the Minion DHF. That's probably why it's one of the most imitated tires in mountain biking. Whether riding local trails, a backcountry epic, racing enduro or World Cup downhill, there's a Minion DHF spec to meet your needs.
Maxxis Aggressor Rear Tire – The Aggressor is designed for high-speed modern mountain bike trails. Advanced knob shaping creates extra gripping edges, and reinforced side knobs offer enhanced stability when cornering at speed. An all-around trail tire excelling on everything from loose cross country race courses to heavy all-mountain riding.