Features
Flat Foil – A flat inside face combined with a convex outside face. The traditional flat sided foil offers an even combination of drive, pivot and hold and provides a very consistent, reliable feel over a wide variety of conditions.
FCS II Fin System – This fin is designed to be used exclusively with the FCS II Fin System, and will not fit in the traditional FCS Dual Plug System.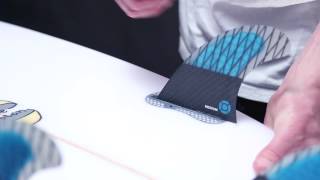 Sally Fitzgibbons' Signature Fin – The smaller centre fin provides exceptional tail release. Ideal for beach breaks.
Ideal Conditions – Hollow steep waves, punchy beach breaks.
Board Types – Performance boards with shallow concave and moderate-to-low rocker.